FOR OFFICIAL VIDEOS, NEWS, EVENTS, TOUR SCHEDULE & TICKETS
March 6th 2017
Another great show in the books at Plattduetsche Park! It certainly was one of those magical shows where the connection between the band and the audience took the music to another level. A huge thanks to everyone at the venue who treat us so well, and of course to our ABB family for your tremendous support! Here we have a highlight from the night as we honor Duane's collaboration with Eric Clapton on the Derek & The Domino's "Layla"
April 5th 2017
Next up we are back at 89 North with our great friends FREEBIRD on Saturday April 15th! It is always a special show when our two bands get together and this certainly will be another one for the ages. Showtime is 8pm with Freebird kicking things off followed by the ABB. Be sure to grab your tix early as the house is always packed and the vibe is on!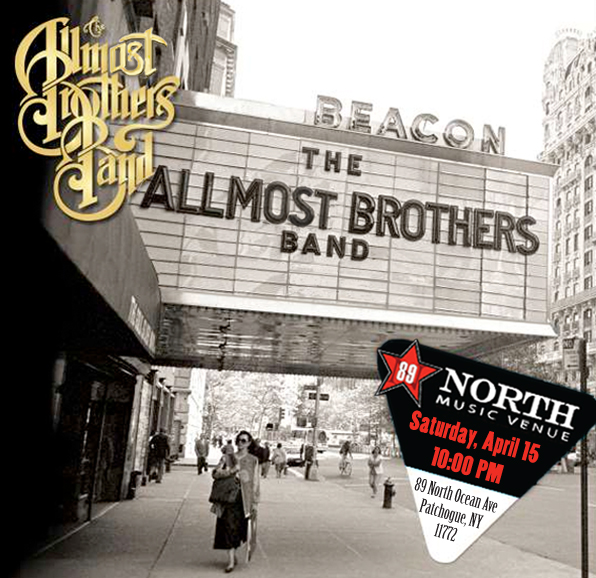 May 15th
Next up we are back at our favorite Irish pub rock venue Mulcahy's for another great night of ABB jams. Showtime is 8pm and tix can be purchased ahead of time online.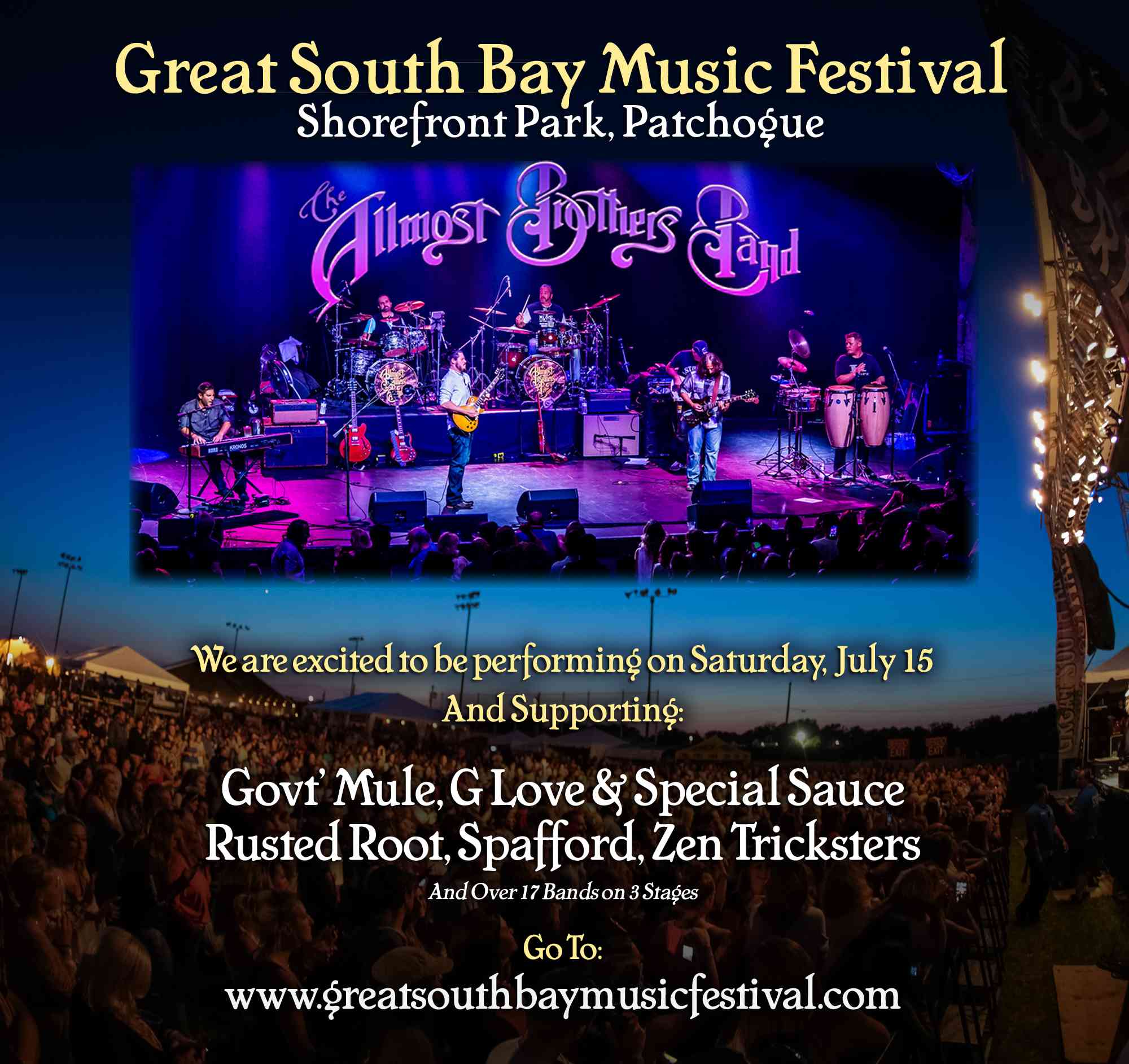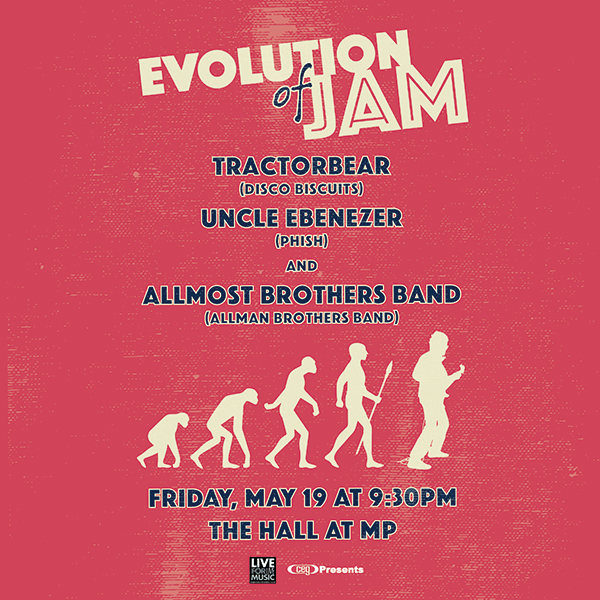 April 19th 2017
A big thank you to everyone who came out and packed the house at 89 North this past weekend. Always a pleasure to share the stage with our friends Freebird and both bands were hittin' the note for sure! Next up we are going "back to where it all begins" or began for that matter as we celebrate our 2 year anniversary at KJ Farrells, the very venue where we made our debut in April of 2015. Since our first show at KJ's there has always been a bit of magic in the air when we take that stage and this will certainly be another one of those great nights. We hope to see our ABB family out in full force as well celebrate this milestone and pay tribute to this amazing music! As always we can't do it with out the love and support from our tremendous fan base!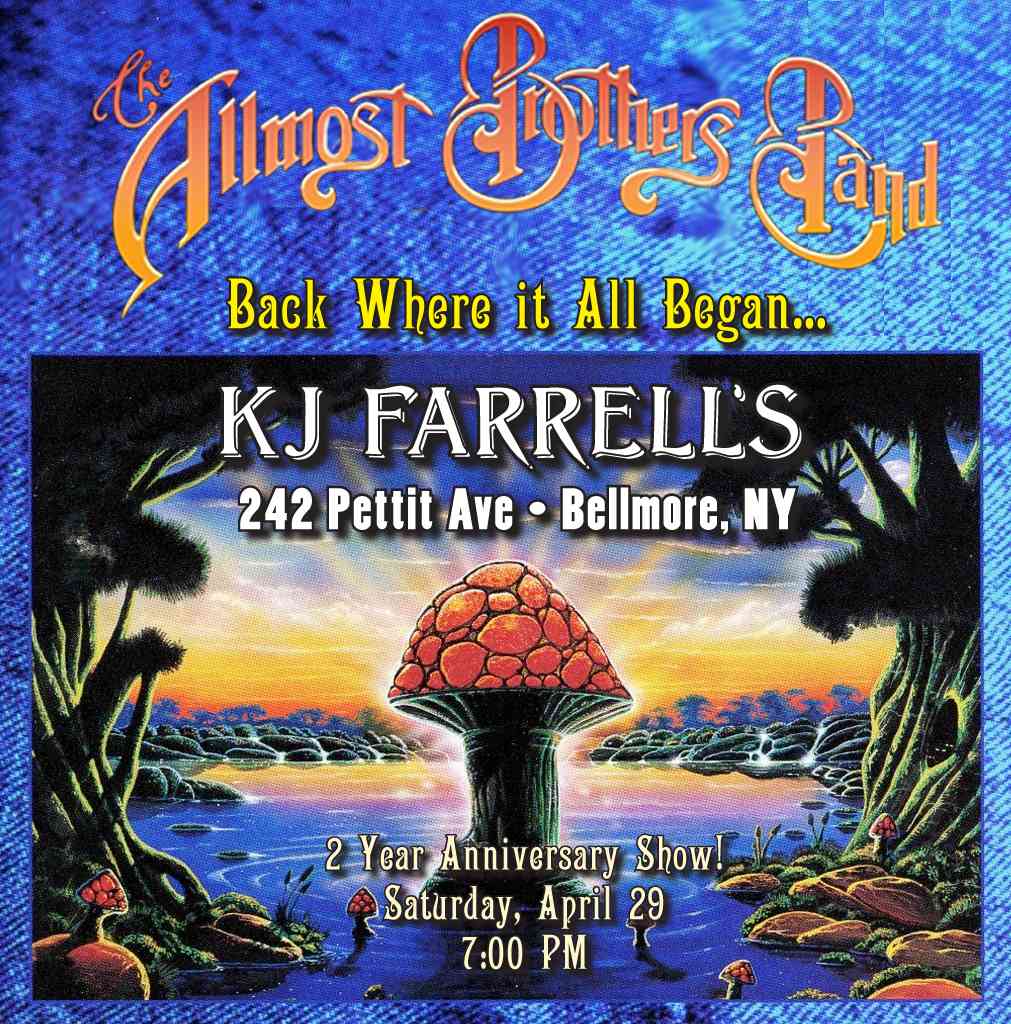 May 11th
Next up we will be making our Brooklyn, NY debut @ The Hall at MP as we join the Evolution of Jam Concert series. This is going to be a tremendous evening of music as we are joined but tributes to both Phish and The Dicsco Biscuits. Showtime is 10pm as the ABB kicks things off. Tickets can be puchased ahead of time online.
July 10th 2017
The Summer is in full swing and kicked things off at one of our favorites, KJ Farrell's in Bellmore. We were joined by our friend and guitarist in Dickey Bett's & Great Southern, Long Island's own Andy Aledort. Here we have a clip of "Jessica" showing just how much fun 2 guitarists can have playing with melody, and keeping each other on their toes! Be sure to check us out at the Great South Bay Music Festivale next weekend as we support Gov't Mule, Rusted Root and many more!
July 17th 2017
A big thank you to everyone who came out to the Great Southbay Festival this past weekend! It was a dream to be on the bill with Gov't Mule, and so many amazing artists, and we look forward to returning next year. Here is a clip from our set as in true festival style we invite our friends from the band Quarter Horse to sit in on a tribute to Gregg Allman performing Gregg's "Midnight Rider" The Summer is rolling on and we look forward to seeing our ABB family our for more of our upcoming dates!
July 22nd 2017
Smithspoint Beach Hut you were awesome! The weather was right and it certainly made for a scenic night of music. We can't wait to see you again next year!
Peace & Love
~ABB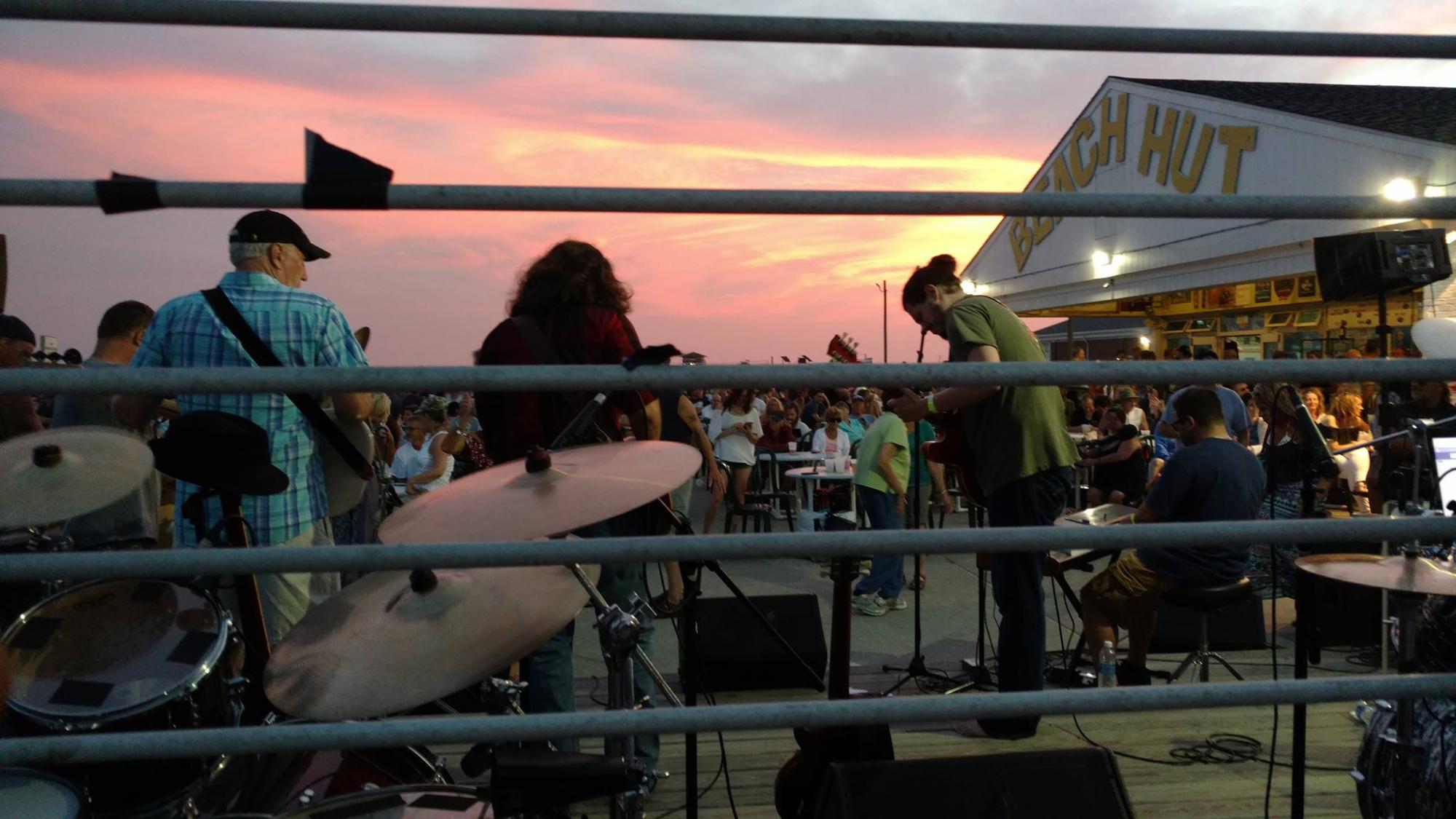 June 23rd 2017
We are proud to announce our Summer Tour schedule! Be sure to mark your calendars as we return to some of our favorite venues as well as debut at some great outdoor events. We look forward to seeing our ABB family out and about during this great Summer season.
July 30th 2017
We are very happy to officially announce our headline performance at the Space at Westbury Theatre with our friends Skynyrd Tribute Freebird on Oct 19th! Be sure to grab your tickets for this very special event!

Aug 3rd 2017
This Summer is certainly proving to be a highlight of our year and we would like to thank all of our amazing ABB family & Friends who make it possible! Next up we will be rolling into Sachem Library for their Summer Concert Series on Friday Aug 11th. This show will be on a first come first serve basis with only 500 bracelets given out. Bracelets will be handed out after 5pm with showtime kicking off at 7pm.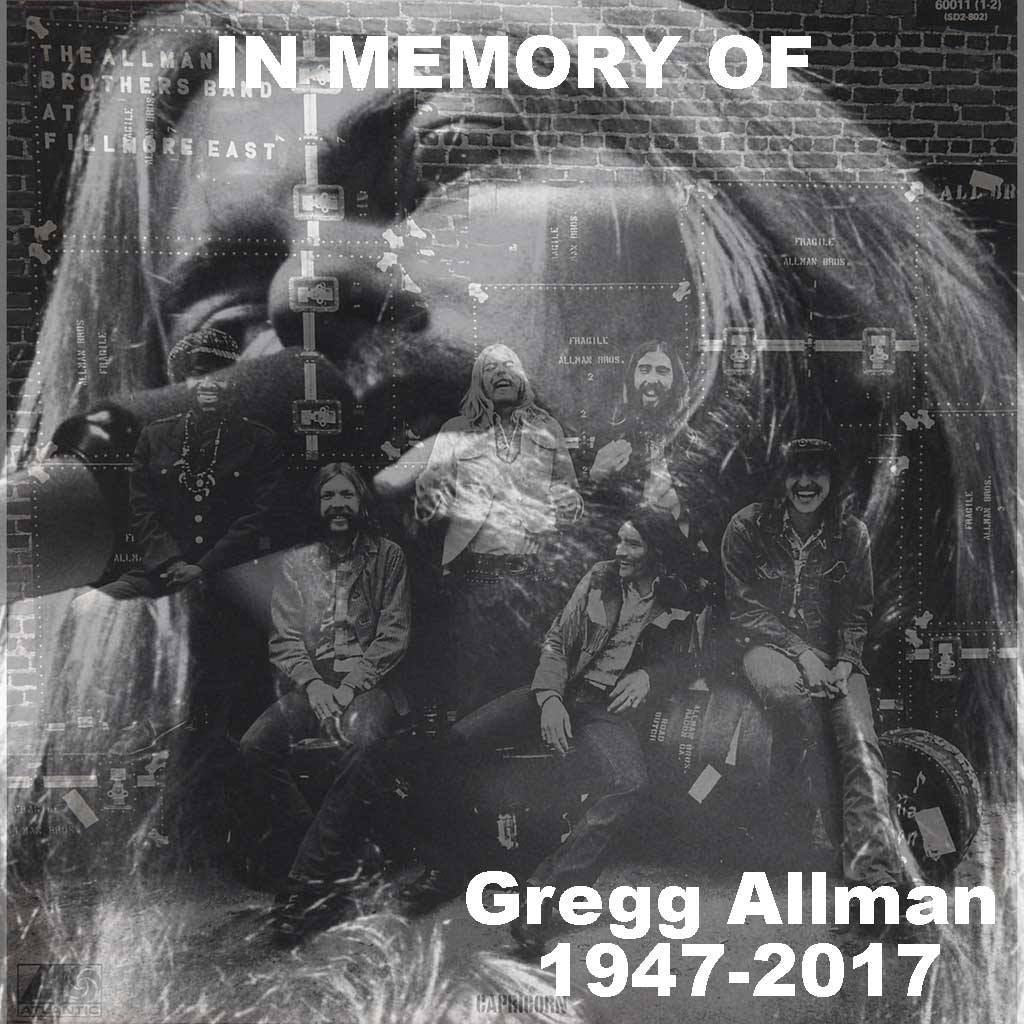 May 27th
RIP Gregory Lenoir Allman 12/8/47-5/27/17
Gregg Allman has been such an inspiration to every member of this band and we are all certainly feeling this great loss. His songwriting and vocals established the Allman Bros as one of the greatest ensemble bands of all time and he will be missed by all who knew him and loved his music. Our band leader Sean McGrath went to social media to express his feelings of loss for Gregg and it can be read here.
June 2nd
It certainly has been somber times in the ABB community as we mourn the loss of the great Gregg Allman. The road truly does go on forever and the music of The Allman Bros. will live on in our hearts for all time. We will certainly continue to pay tribute to Gregg and his incredible music and on that note we are happy to make our first major announcement of the summer. On Saturday July 15th we will be performing at the Great South Bay Music Festival, alongside Rusted Root, G. Love & Special Sauce, and of course one of our main inspirations Gov't Mule. It's an honor to be on the lineup with all of the amazing artists scheduled for the festival. We hit the Jambalaya Stage at 5:45 and can't wait to share this milestone with all our ABB family. Stay tuned as we will be announcing our full Summer dates next week!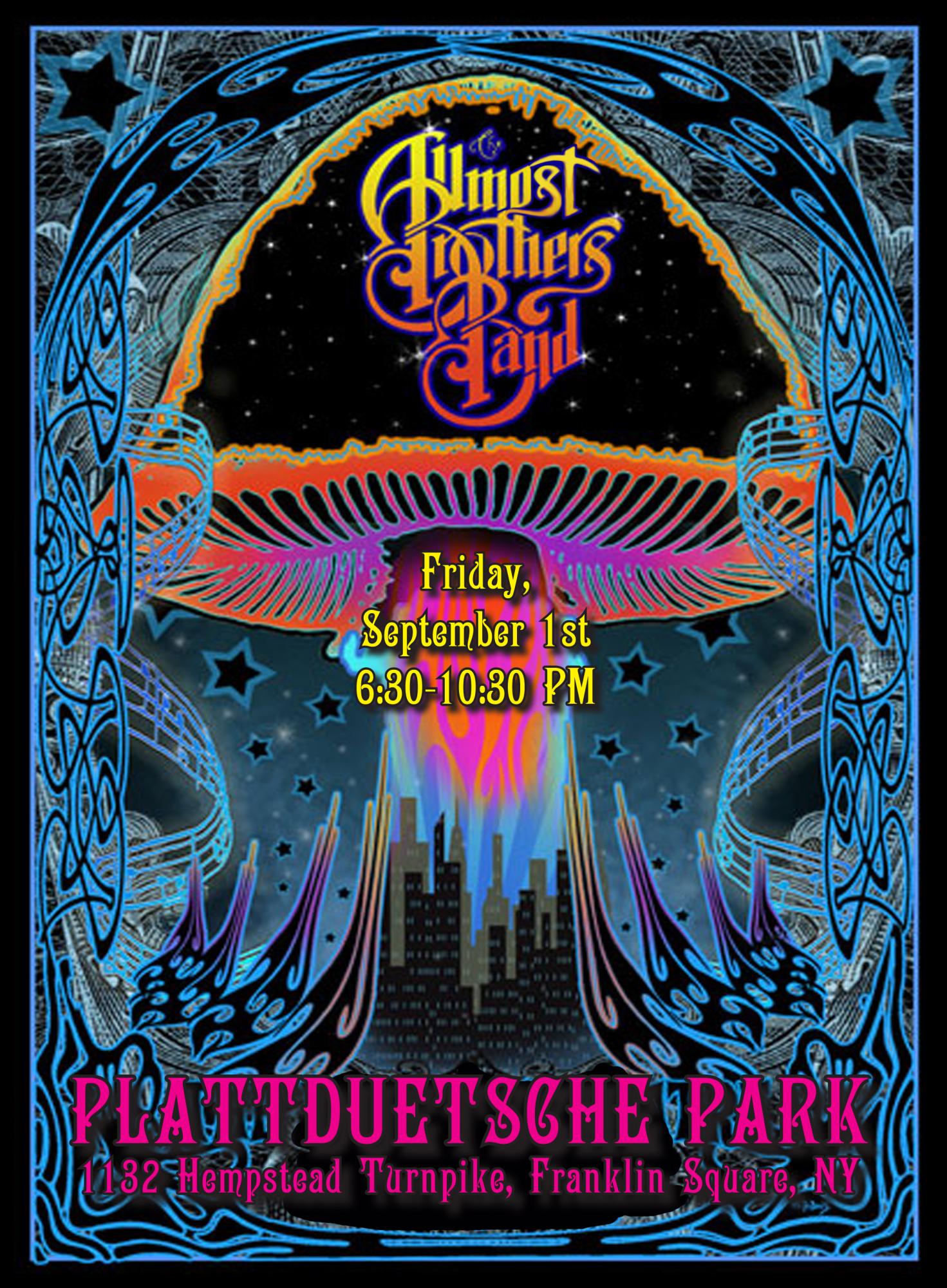 May 12th
Brooklyn you were a blast! A big thanks to CEG & Live 4 Live Music for having us as apart of the Evolution of Jam Concert series. It was a pleasure to share the stage with our friends Uncle Ebenezer, and our new friends Tractor Bear. Here we have a clip of the always incendiary "Dreams"
Peace & Love
~ABB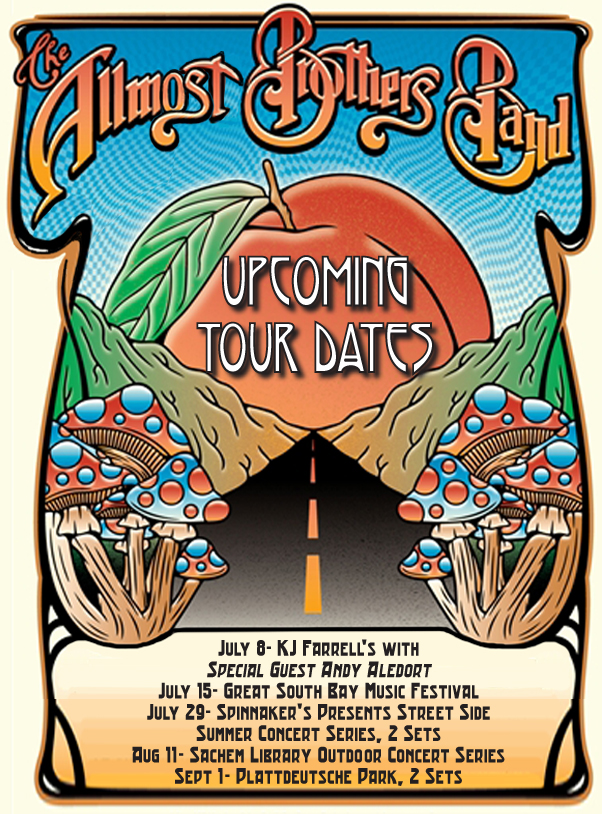 Aug 30th 2017
We hope to see all our ABB family out for our last two shows of the Summer this Labor Day weekend. We kick things off returning to our favorite beer garden, Plattduetsche Park on Friday Sept. 1st, and then close out the weekend on Sunday Sept. 3rd at the Cedar Beach Hut in Babylon. This certainly has been a tremendous Summer for the Allmost Bros and we are looking forward to closing out this run with a bash!
October 20th 2017
It certainly was tremendous evening of music last night at the Space at Westbury Theatre, and a milestone for everyone involved: We would like to thank Ed Levine at Preemo Productions for believing in us and putting on a such a great show, everyone at the Space, our brothers in "FREEBIRD" The Lynyrd Skynyrd Tribute who we always love sharing the stage with, and ofcourse all our loyal ABB family. We often sound like a broken record, but its because of you that we are able to realize our vision of honoring the great Allman Brothers Band. We have some great photos to be shared of the evening, including many video clips of our performance as we were able to film the entire show, so be sure to stay tuned! Here we have a fan clip of "Midnight Rider" be sure to watch to the end of our signature "teaser" and segue.
Peace & Love
~ABB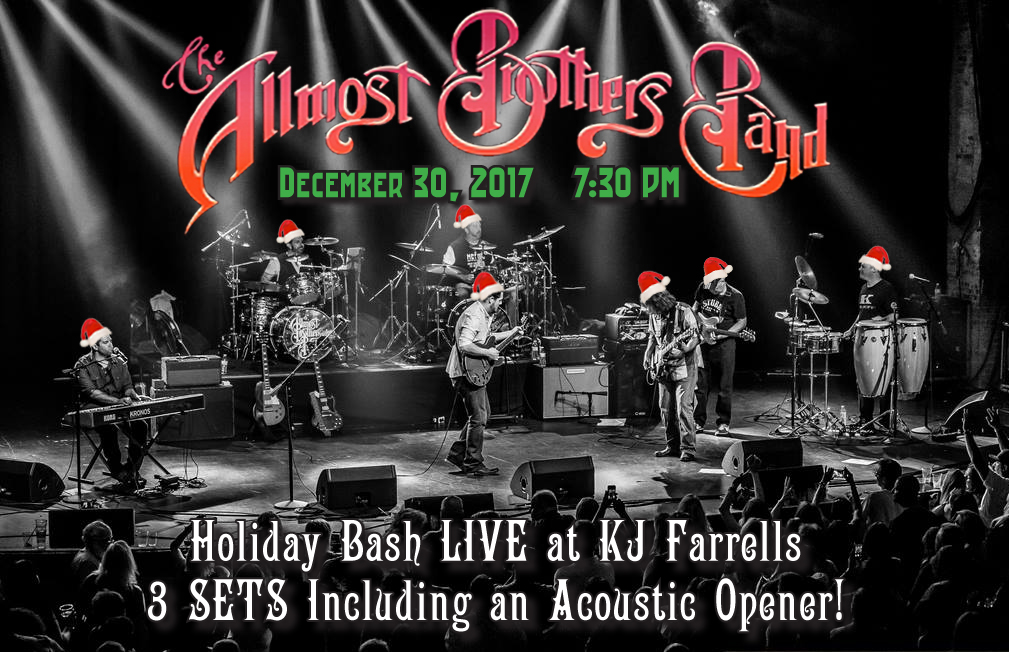 December 12th 2017
Hi everyone! We hope everyone is in the full Holiday season swing, and in that spirit we are happy to announce our next show on Saturday Dec. 30th at KJ Farrells for the Allmost Bros. Holiday Bash! We couldn't think of better way to celebrate the Holiday's and bring in the New Year than with our ABB family & friends for a very special all night music event. Thats right we will be taking over KJ's for the entire evening preparing 3 sets of music including a set of Allmans unplugged. Funny enough the Allmans performed their now legendary MTV unplugged set in Dec. of 1990, and we will be opening the evening with an all out acoustic set. As always we cannot continue to do what we do without the love and support of our ABB crew, and we look forward to sharing this very special evening with you all! So mark your calendars, bring the extended family, drink some eggnog, and get ready for another great ABB show at KJ's. Showtime will be 7:30pm sharp!
Peace & Love
~ABB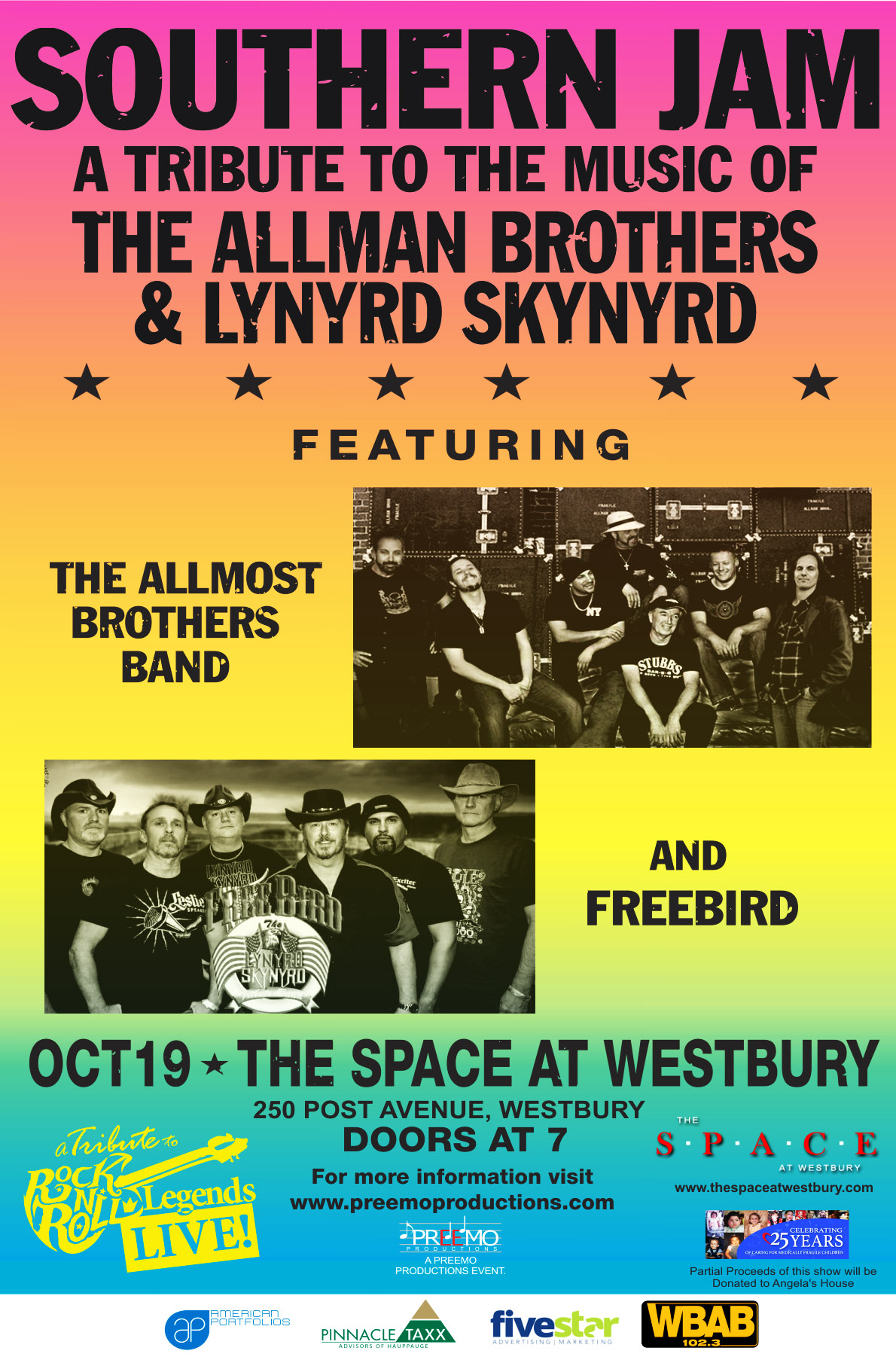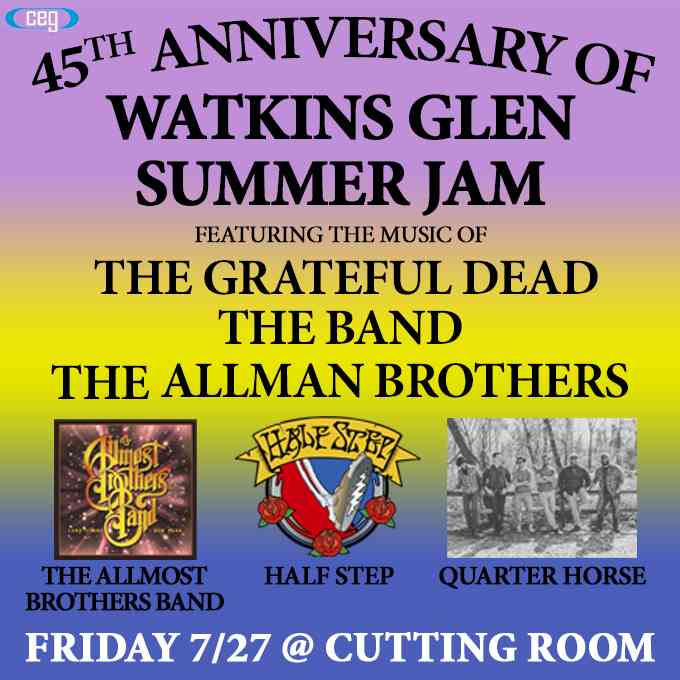 July 25th 2018

Next up is certainly a highlight of our Summer as we make our debut at the world famous Cutting Room in NYC celebrating the 45th anniversary of the historic Watkins Glen Summer Jam music festival. We will be joined by our good friends Quarter Horse, and Half Step as we pay tribute to The Band, The Grateful Dead and of course The Allman Bros. Doors open at 7pm, with Quarter Horse kicking off the night at 8pm, ABB hitting at 9:30pm, and Half Step at 11pm. This will certainly be a special evening of music, and look forward to sharing it with our ABB family!